Avalon, Cape May, Cape May Point, Commercial, Corbin City, Dennis, Downe, Estell Manor, Fairfield (Cumberland), Greenwich (Cumberland), Hopewell (Cumberland), Lawrence (Cumberland), Lower, Maurice River, Middle, Millville, North Wildwood, Ocean City, Sea Isle City, Shiloh, Stone Harbor, Stow Creek, Upper, Vineland, West Cape May, West Wildwood, Weymouth, Wildwood, Wildwood Crest, Woodbine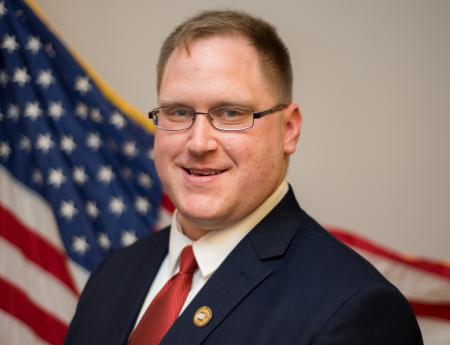 Senator
Bob Andrzejczak
District 1
Bob Andrzejczak is a trusted champion of working families.
On January 15, 2019, Sergeant Bob Andrzejczak was sworn in as Senator representing the First Legislative District. He is a resident of Middle Township and a native of Lower Township and Cape May County. He joined the Army in 2005 as infantry and went through basic training in Georgia. He was briefly stationed in Hawaii before being deployed to Iraq in 2006. While in Iraq, Bob was stationed in Ryad and Hawija. His deployment was initially scheduled for one year, but on Christmas 2006 he received an extension. He served for fifteen months. Sergeant Andrzejczak's second deployment in 2008 was to Bayji, Iraq. Two months into his second deployment he was severely wounded when his convoy was attacked.
Bob was sitting in a turret, serving as rear gunner, when his convoy was hit by an armor-piercing grenade. Despite injuries that would cost him his left leg, Bob's initial reaction was to make an attempt to save his men. Bob crawled over to check on them before realizing he was the only man severely injured.
After serving five years, from 2005 to 2010, including 17 months in Iraq, Sergeant Andrzejczak was awarded a Bronze Star and the Purple Heart. He also received two Army Achievement medals, an Army Good Conduct medal, a National Service of Defense Medal, a Global War on Terror medal, an Iraq Campaign medal with a Campaign Star, an Army Service Ribbon, and a Combat Infantry Badge.
As our Senator, Bob has fought on behalf of our seniors, veterans, and local businesses. His efforts helped freeze property taxes from being increased for more South Jersey seniors. He has helped provide job training opportunities, scholarships, and a $6,000 income tax credit for veterans. He has also helped our fisherman, farmers, boat manufacturers, and tourism industry grow and expand.Bob and his wife Trisha have two young children, a son and a daughter.
​
​test Link
Website
Facebook
Twitter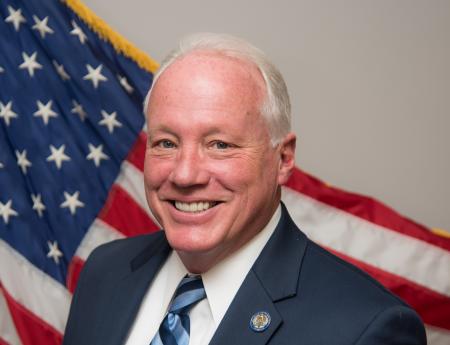 Assemblyman
Matthew Milam
District 1
Proven business leader advocating for positive change.
On January 31, 2019, Matthew W. Milam was sworn into the New Jersey General Assembly representing the First Legislative District. Matt previously served in the General Assembly from 2008 to 2013, where he served as the Chairman of the Assembly Tourism, Gaming and the Arts Committee, Vice-Chairman of the Assembly Military and Veterans Affairs Committee, and a member of both the Assembly Environment and Solid Waste Committee and the Assembly Transportation and Public Works Committee.
Matt is a successful small-businessman, having served as Chairman & CEO of Foundry Service Corporation, and Miles & Co., Inc. from 1979 to 2018.
As a long-time resident of Vineland, Matt takes an active role in community involvement. His volunteer work reaches children and senior citizens. His efforts span not only Cumberland County but citizens throughout the state.
Currently, Matt is the Endowment Vice-Chair for Vineland's First United Methodist Church. He previously served as the Chairman of Finance. Matt also volunteers for his church's food bank and has been doing so for years.
He served as a member of the Board of Directors for the Vineland YMCA from 2004 to 2009, where he served on the Finance Committee. He also served as the vice-chairman of the Cumberland County Economic Development Board, where he volunteered his time to enhance the quality of life for citizens of the county by promoting new industry and new jobs while maintaining the unique environment the county already has.
Matt has also served on the Board of Directors for the Bayshore Discovery Project, and Spirit and Truth Ministries, which provides hot meals to those in need throughout Vineland.
As our Assemblyman, Matt has tried to bring common sense to balancing the budget. He has fought to cut unnecessary spending and red tape, put guard rails in place to prevent new spending without our consent, and passed legislation to help get small businesses the capital they need to stay here and expand. He has also been a champion for those with special needs, working to increase education funding for those with disabilities and ensuring that every child can learn to read. As a member of the Veterans Committee, Matt has been an exceptional advocate for our returning service members.
Matt joined his family-owned business, the Foundry Service Corporation in 1981. In April of 2000, he was appointed president of Foundry Service, located in Vineland. As president, Matt was in charge of new and existing business development as well as general oversight operations. He also served as Vice-President of Miles and Company, a wholly-owned affiliate of Foundry Service Corporation. Foundry Service Corporation has been located in Cumberland County since 1975 and was founded by Matt's father, William F. Milam. Matt has served as National Director for the American Foundry Society, which has over 10,000 members. He has also served as chairman of the American Foundry Society Metropolitan Chapter located in Edison, NJ and for the Lehigh Valley Foundrymen's Association in Bethlehem, PA.
Matt Milam resides in Vineland with his wife, Karen and his two daughters Marissa, 24 and Melanie, 20.
​
​
​
Website
Facebook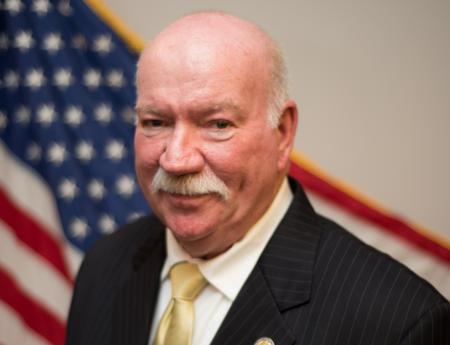 Assemblyman
Bruce Land
District 1
Experienced in serving our country and our community.
Bruce is a decorated combat war veteran who continued serving once he returned from protecting our country by joining law enforcement and being an active member of the community.
Bruce Land was elected to the State Assembly on November 3, 2015 and re-elected to the General Assembly on November 7, 2017.
Former U.S. Army Sergeant Robert "Bruce" Land is an American hero who has displayed great leadership in his community for decades. He lives in Vineland
with his wife, Bonnie.
As a soldier in Vietnam, Bruce was the recipient of two Bronze Stars, one with Valor, and the Soldier's Medal for bravery while his platoon came under attack on March 14, 1971. While in a defensive position in Quang Tri Province, his platoon came under intense rocket, mortar and heavy automatic weapons fire. Sergeant Land repeatedly subjected himself to hostile fire effectively strengthening his platoon's position. In one encounter, a hostile round ignited a case of high explosives which he was able to quickly extinguish, saving the lives of many troops.
At his home in Vineland, Bruce is a very active member of his community contributing many hours through volunteer work. He has coached many sporting organizations including Vineland Little League, Vineland Basketball, Vineland Soccer, and CYO Basketball. He is a mentor with the Big Brothers and Big Sisters of Cumberland and Salem County, an officer at the Vineland North Italy Club, a member of the Millville Thunderbolt Club, a former member of the Vineland YMCA Men's Club, and a member of the NJ Superior Officers Association.
As our Assemblyman, Bruce has introduced and co-sponsored close to twenty five bills to improve the lives of veterans in this state. He has passed legislation to prevent opioid overdoses and founded the state's Code Blue law that ensures people without homes can get shelter in freezing temperatures. Along with Matt and Bob, he helped expand paid family leave.
Bruce is a retired captain from the New Jersey Department of Corrections. Bruce and his wife Bonnie have 2 sons and 3 grandchildren.
​
​
​
​
Website
Facebook
Twitter